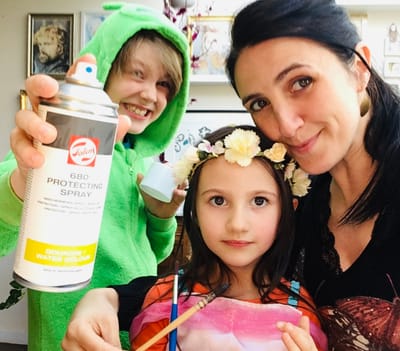 *** English below***
Waterland -
Portretten in aquarel door Annelies Depoorter.
Hallo! Ik ben Annelies.
Ik schilder
portretten
in aquarel. Dat is mijn passie en plezier.
Het resultaat is een fris, licht en levendig portret, treffend in gelijkenis.
Het liefst werk ik van een foto die ik zelf genomen heb. Daarvoor bent u steeds welkom bij mij thuis of we spreken iets af.
Als dit niet mogelijk is, stuurt u mij (via email) één of meerdere foto's.
TIPS voor 'goed schilderbare' foto's:
- Compositie
is niet onbelangrijk. Een halve arm of weggedraaid hoofd staat niet mooi.
- Beter geen tanden (maar soms kan het wel).
- Het liefst schilder ik een close-up van hoofd en schouders. De blik in de ogen is het allerbelangrijkst.
- Contrast tussen licht en schaduw geeft diepte aan een portret. (Een diepe slagschaduw onder neus of kin is dus geen probleem)
- Te veel mensen, van te veraf of op een te klein oppervlak zijn niet geschikt voor een portret.
- Hoe scherper de foto (meer pixels), hoe beter het resultaat. Is de foto een beetje flou, dan zal ik het portret ook minder scherp schilderen.
- Ik hou van handen, streepjestruien, plooien in kledij, hoeden, bloemen en andere attributen... Al deze elementen brengen karakter in een portret en maken het interessant om naar te kijken.
Prijsberekening en werkwijze
Ik stuur u een prijsofferte op basis van het aantal uren dat ik er ongeveer mee zal bezig zijn (zie prijslijst / store).
Met een voorschot komt u ook bovenaan mijn prioriteitenlijst.
Ik stop heel veel tijd, aandacht en liefde in de gezichten die ik schilder en beloof u een fris portret met treffende gelijkenis, maar ik vraag ook wat artistieke vrijheid. Ik pas bijvoorbeeld de kleuren van kledij aan naar mijn eigen smaak.
U mag natuurlijk ook suggesties doen. Ik sta zeker open voor het toevoegen van fantasie-elementen of speciale achtergronden.
Ik communiceer duidelijk en hou mij aan de afgesproken deadline.
Als ik klaar ben, kan u het portret bij mij komen ophalen of stuur ik het op met de post.
Als u tevreden bent, stort u het afgesproken (rest)bedrag op het moment van de ophaling.
Als we via de post werken, stuur ik u op voorhand een foto. Het portret stuur ik u pas na ontvangst van de overschrijving.
NIEUW:- Vroeger schilderde ik op papier, sinds 2020 ben ik overgestapt
op houten panelen
. Door de speciale ondergrond en coating zijn deze kleurvast en hoeven ze niet achter glas te worden bewaard. Dit geeft een veel mooier en duurzaam product.
- Als u dat wenst, kan u ook kaartjes, uitnodigingen en posters van uw schilderij bestellen.
Voor meer details of vragen,
contacteer mij
gerust.
U vindt mijn werk ook op
Facebook
en
Instagram
.
***
Waterland -
Portraits in watercolors by Annelies Depoorter
Hello! My name is Annelies.
I paint watercolor
portraits
. It is my passion and pleasure.
I put a lot of love and attention into every face I paint.
The result is a fresh, pure portrait, full of life.
I usually work from a photograph.
I can take one myself or help you pick one of your favorites.
I like hands, striped sweaters, hats and anything that brings depth to an image.
I can also bring different pictures and fantasy elements together.
I make you a price offer and with 30% advance.
I promise you a portrait of uncanny resemblance but I also need some artistic freedom
in terms of of color or composition. Naturally, I am open to suggestions.
I usually only need a couple of days to finish a single portrait.
If you like the final image, you pay the rest and I wrap and ship your parcel asap.
In 2020 I switched to painting
on wooden panels only
.
Advantages:
- no warps or bulges
- archival, acid-free
- colors stay fresh (paper will always turn yellow over time, colors tend to fade)
- no need to keep the painting behind glass
Feel free to
contact me
for more information.
You can also find me on
Facebook
or
Instagram
.